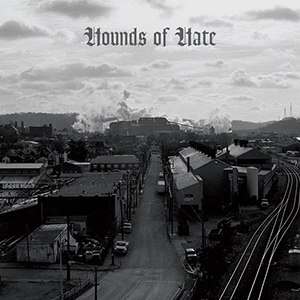 After Hounds of Hate released their first 7″, No Redemption, I finally began to understand the band. As a straight edge guy I find it really hard to find new straight edge bands I actually enjoy. I give a lot of shit (edge or not) a solid chance, but often after a couple songs if I'm not blown away I move onto the next. Unfortunately the HoH demo didn't blow me away, but I could see the potential lingering in there somewhere. So flash forward to when I get word they're releasing something new I go round and check it out. Perhaps it was the addition of a new vocalist that did it for me? Maybe they just honed their sound? Either way that 7″ is solid end to end if you ask me.
So fast forward more and it's announced that Hounds of Hate will release an LP on Painkiller in 2013 – that's good news because I am diggin the shit out of this band. They head to NYC and bring a sampler tape with them. I cop that shit and again more solid songs that make the LP something I definitely want to hear.
Once the 12″ mailer hits my doorstep and I drop the needle on the finished product I am definitely stoked right off the bat. The Pittsburgh band gives the world another set of traditional hardcore songs grounded in a the NYHC fashion. Heavy, hard hitting, multi-tempoed, and full of moshable breaks. Lyrical content is what you might expect – songs about people who stab others in the back, people who aren't edge, people who are just generally shitty and a good "breakout!" or two for good measure.
Laced with bass fills and a few guitar solos this is a breath of life to the generally stale straight edge hardcore genre. My one and only qualm with this record's breathe is that there is very little room between songs – room to breathe if you will. The sequence is so tight that there is not a single second of space between songs, which doesn't let anything you've heard sink in. But I can just say my preferred format to listen to is the vinyl, because at least half way you get to reflect on it for a sec. Not to say I don't jam this on the pod from time to time, but I would much rather be at home with it on my home stereo.
On the reg bands come out aping either Cappo or Porcell both lyrically, musically, or on stage with their moves and that's the end of it. They stick with the traditional "youth crew" thing and add no new flavor. Those bands suck a shitty one. Hounds of Hate is not one of those bands. Do yourself a favor and get your paypal funds together to pick this shit up.
Tags: hardcore, hounds of hate, lp, painkiller, pittsburgh, straight edge