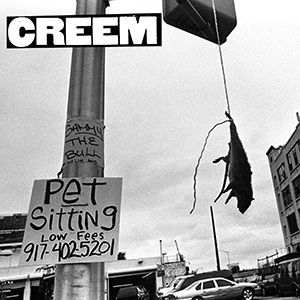 Creem is back once again with a new 7″ for 2013. After releasing their self titled 12″ on Katorga Works last year the band put together a European tour with their brother/sister band Nuclear Spring. In prep for their trip they got back into a studio to recorded 4 new ones. Note I said a studio, not the studio. The reason I mention this is because the recording's quality has vaaaastly improved on this new Curator ep. Although I was a huge fan of all the releases they did prior (being one of the few Brooklyn based bands I fully support) after the demo I was hoping for a little more separation tonally. But as things go in the Zu the kids prefer to keep things as raw as possible. I do believe they do the rough recording thing best, but I am more than happy to finally hear them sound on record as they do when I have their sweat pressed up against mine in a dim room.
Curator still shows that Boston inspired sound through and through, but this time the compositions are bit more melodic. Maybe if they were listening to "Open Up" on the last one you could imagine they were listening to "I Don't Belong" this time around. Everything is a lot faster paced and more  inspired by punk rather than stompy floor punching hardcore numbers – which is something I like. You can't rewrite the perfection of "Good Riddance" if you ask me so I'm happy to see them go and try some newer moves. Frontman Alex's vocals are gruff as ever, and again deliver a standard set of pennings of general hardcore nature. Not groundbreaking content by any means, but if it tried to be more I probably wouldn't like it as much. "Rat Race" is a personal favorite – touching on the popular pastime of social climbing that plagues our shitty city and it's idiot inhabitants.
This is a great record, I'm looking forward to what they can come up with next. And now that Reggie is pretty much back in NY they will be playing as a five piece a hell of a lot more which always makes their sets just that much better. Pick this up from Static Shock records, and download it here.