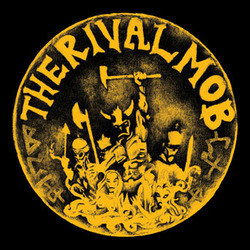 I don't pretend to be one of those guys who only listens to the most unknown, mysterious, and unattainable bands. When it comes to hardcore, sometimes bands get popular for a reason, and right now The Rival Mob has to be numero uno. And for good reason – they've been around long enough to build that kind of fan base, play tons of fests, release new shit every year or so, and have the craziest t-shirt game going.
Last year these dudes put out a little sampling of what was to come from their debut on REV in the form of a sampler tape. The streets were left in a frenzy over it. Some of the best tracks the band has yet put together were on there. Not only that, the Paincave recording seemed to have been crafted to a perfect balance of crushing guitar crunch and booming thud-dy drums.
Flash forward a bit and Mob Justice is here in the form of a 12″ LP. The cover artwork is perfect, and the layout is slick and thought out in that Revelation kind of way. Some of the cassette tracks, some new ones. One thing though – The Rival Mob has always walked a fine line between that tongue in cheek humor and cold, hard reality. The subject matter is just so absurd it makes you laugh at it's absurdity, but deep down inside you've found your new commandments. On Mob Justice the tongue in cheek thing may have gone over the edge for me. For example "Cheapo Grosso" and "Friendly Freaks" leave me looking for the more educated-dumb of something like "Genepool/Cesspool" of the past. My only other qualm with this LP is the production. I say stick with what you know, brothers. Start to finish the overall compression is heavy. Each guitar track feels like its pressed up against my ears. The booming space normally present on Rival Mob records is altogether missing. On the flip, Brendan's vocals sound better than ever thanks to whatever fancy mic was used.
Despite my minor beef, this is an incredible effort and miles above 98% of the shit out there, so no real complaints from me. If you've been hearing hype out there on the net, you had better believe the hype. I seriously hope these dudes throw another ep at us by the summer because people are gonna be ravenous. Mob still Rules All.
Tags: mob justice, revelation, rival mob